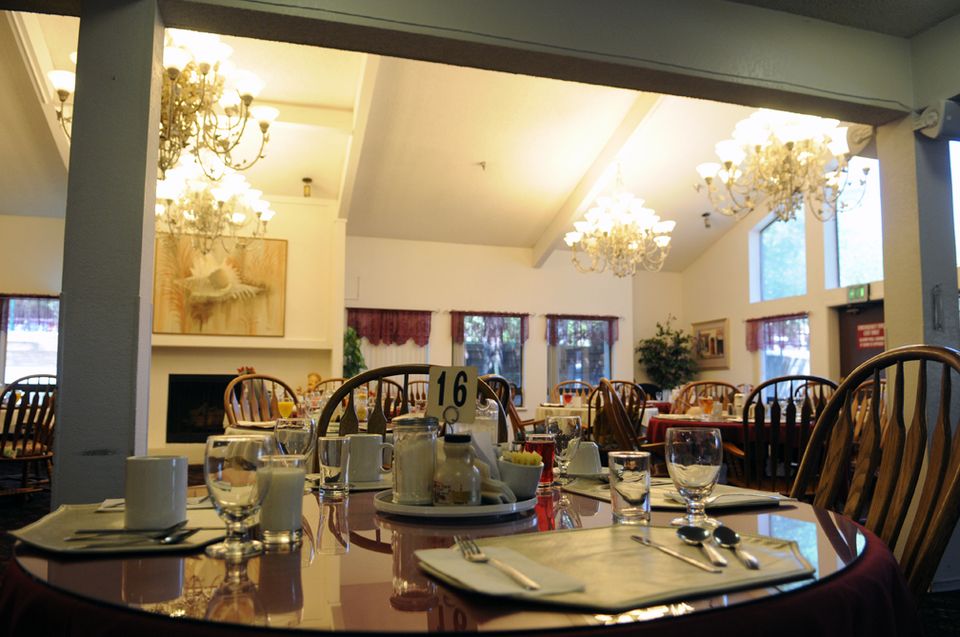 Take a seat in our elegantly furnished Main Dining Room, where our solid oak tables and chairs are dressed with linen tablecloths. Our friendly and efficient wait staff let you relax in the companionship of good friends as you enjoy your meal in our home-like atmosphere. Three delicious meals are prepared daily under the guidance of our professional staff, insuring a well balanced, nutritious, and of course, delicious dining experience.

Starting each day with breakfast makes good sense; so does offering a variety of breakfast favorites. Each day, our morning menu includes fresh fruit, juice, hot and cold cereal, eggs, bacon and sausage, and hash browns. Additionally, we serve up a daily entree featuring fluffy pancakes, crisp waffles or savory French toast.

Dinner time is our noon meal and you will feast on our daily entrees, such as roast beef, chicken, ham, Cornish game hen, beef stew, or one of our specialty menu items. Fresh vegetables, fresh bread/rolls and beverages, and a delectable dessert complement your meal.

Supper is our lighter meal in the evening because at supper you can enjoy our homemade soup; add a salad from the salad bar for a delicious meal or select from our assorted sandwiches, hamburgers, or ravioli. Complete your meal with coffee, iced tea, juice, and of course, dessert.

We strive to serve the freshest food with the best of service, and we take pride in preparing our menus for you. If, however, you require or simply request alternatives, we have optional menu items from which to choose.
Private Dining
Solid oak buffet hutch, oak tables and chairs, fine china and flowers all add to an intimate, enjoyable private dining atmosphere for our residents and guests. Our dining room staff can serve your meal, food can be delivered or an afternoon tea can be arranged. It's completely at your discretion!

We offer a monthly calendar full of social activities such as afternoon socials with live music, bingo, moderate exercise, sing-alongs, current events discussion groups, arts & crafts, movies, etc. We provide transportation to stores in the Reno-Sparks area. We also take the occasional afternoon drive or walk to Virginia Lake to get a little time away from everything. There are sign language classes available, baking activities and massages for those who enjoy a little pampering. Once a month we go all out with a birthday party complete with a live band, cake, ice cream and special gifts for our birthday residents, even steak and lobster for their special day. Our calendar is published monthly for our residents to review.
Social Activities Also Include:
• Arts & Crafts
• Monthly Birthday Parties
• Special Holiday Parties & Weekly Kaffee Klatsches
• Afternoon Tea
• Ice Cream Socials
• Card Games & Happy Hour
• In-House Movies
• Bingo
…and more!
We Provide Transportation To:
• Grocery Stores
• Drug Stores
• Banks
• Doctor's Offices
• Medical Appointments & Shopping Malls
• Churches
• Movie Theaters
• Local Casinos & Sunday Outings
• Picnics
• Concerts in the Park
• Fleishman Planetarium Trips
• Lake Tahoe
• Virginia City
• Carson City
…and more!